No Taxation without Representation!
Hello friends!
Welcome to 4th quarter! We hope everyone had a wonderful Spring Break and is ready to round out the end of the year! We came back to school this week ready to learn and excited to start our American Revolutionary War unit. We started our week with an online scavenger hunt about the causes of the Revolution and learned that there were many things that led the colonists to rebel. On Tuesday, I was Queen for the day!
My 'colonists' were taxed throughout the day for many reasons. Sometimes the reasons were just plain silly. But by the end of the day, they totally understood why the real colonists were so upset! I even found this note on my desk, with my pile of 'money'!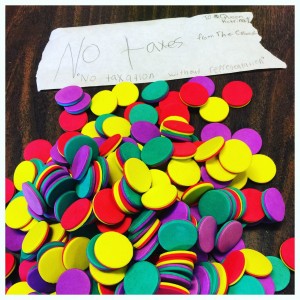 I think they've got it!
Can you tell us any other reasons why the colonists were upset with King George?